Panorado Flyer
Panorado Flyer
License: freeware for private use
Author: Karl Maloszek
Install: yes
Size: 250 KBytes (114 KBytes installer)
Requirement: Windows with COM support

Panorado Flyer is a compact program that gathers GPS coordinates from Google Earth and writes them into images EXIF information.
---
Panorado Flyer functions are accessed through Explorer context menu right-clicking an image file:
First, search the location of the image subject in Google Earth and position it at the center of the map, then go to the image's folder, right click the image and select "Panorado Flyer" and "Get location from Google Earth": a message will display the coordinates (latitude, longitude, altitude) gathered from Google Earth, asking for confirmation before writing them to the image.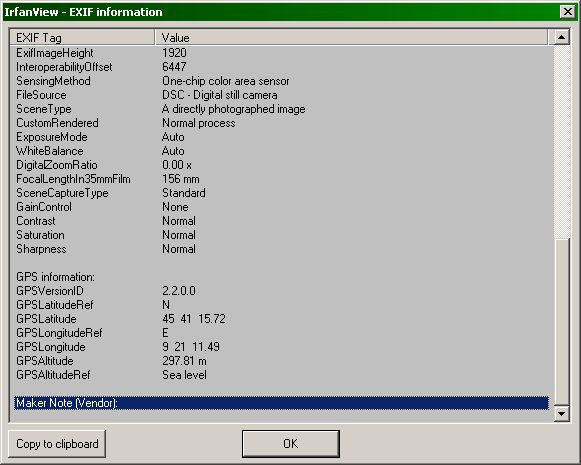 Right-clicking an image that already has the GPS info it's possible to fly to the location of the image selecting "Show location in Google Earth":
Google Earth will go to the coordinates of the image, showing a camera icon, and that location will be added to My Places; clicking the camera icon a scaled photo will be displayed: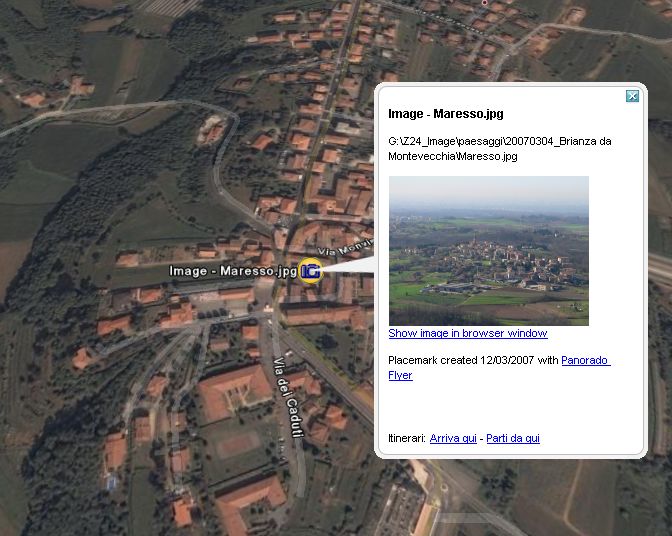 Since the image file location is saved in Google Earth's My Places, it's advisable to eventually rename and place the image in the correct folder before showing it in Google Earth.

Posted by: Z24 | Wed, May 04 2011 | Category: /software/windows | Permanent link | home
Tagged as: freeware, google earth, gps, images, software, tools, windows
---