How to associate username and SID
To know which is the username associated with a known SID (Security Identifier), open the registry (regedit.exe) at this location: HKEY_LOCAL_MACHINE\SOFTWARE\Microsoft\Windows NT\CurrentVersion\ProfileList.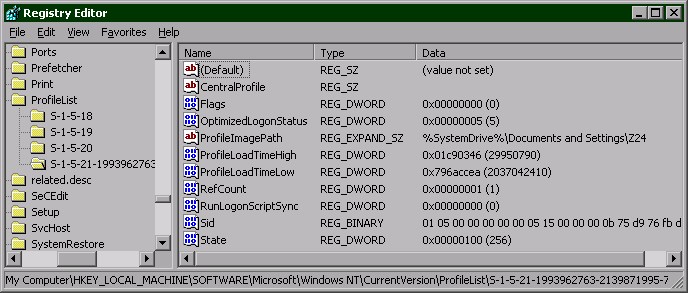 Each SID key has a ProfileImagePath string whose value is the user path which contains the username.
To know which is the SID associated with a known username, select the ProfileList key and search the username.
There is also a SysInternals command-line utility which shows the SID associated with a known username:

C:\>psgetsid Z24

PsGetSid v1.43 - Translates SIDs to names and vice versa
Copyright (C) 1999-2006 Mark Russinovich
Sysinternals - www.sysinternals.com

SID for WAM2\Z24:
S-1-5-21-1993962763-2139871995-725345543-1003

or the username associated with a known SID:
C:\>psgetsid S-1-5-21-1993962763-2139871995-725345543-1003

PsGetSid v1.43 - Translates SIDs to names and vice versa
Copyright (C) 1999-2006 Mark Russinovich
Sysinternals - www.sysinternals.com

Account for WAM2\S-1-5-21-1993962763-2139871995-725345543-1003:
User: WAM2\Z24


Posted by: Z24 | Wed, May 04 2011 | Category: /windows | Permanent link | home
Tagged as: command-line, howto, windows, xp
---