Create a VPN to connect from an Android client to a home Windows XP server
If you want to connect to your home computer using
rdp
when you are not home and are connected to the internet, you have to open a port on your firewall; changing the standard rdp port on both your server and your firewall increases your security (or decreases your unsecurity); configuring a
Virtual Private Network (VPN)
increases your security even more, and you can close the rdp port on your firewall: in fact, when you connect your remote client to your vpn, your remote client comes inside your LAN so that you can remote access your server from inside the LAN.
---
Here is how to configure a VPN on Windows XP to allow incoming VPN connections (but I think the steps on other Windows versions are quite the same).
In Control Panel, Network Connections, hit File, New Connection, Next, then choose Set up an advanced connection

.


Select Accept incoming connections

.


Hit Next, nothing to check

.


Select Allow virtual private connections

.


Select the user which should have the permission to connect to the VPN...

.


...and the protocols

.


In the same window select TCP/IP and click Properties, then check Allow callers to access my local area network, set the range of IPs to be assigned to clients (I use fixed IPs instead of DHCP) [1] and check Allow calling computers to specify its own IP address

[1] If a client with a certain IP connects to the VPN and its IP is comprised in the range specified in this window, the client will not be able to surf the internet once connected to the VPN. So, if my computers' and devices' IPs range from 192.168.0.1 to 192.168.0.20, I set the range of IPs to assign to VPN clients as, for instance, 192.168.0.150 - 192.168.0.199.

.


Then Finish

.


Now Incoming connections appears amongst the other connections in the Network connections window, under Incoming.

.


Right click on the new connection, Properties, in the Users folder uncheck Require all users to secure their passwords and data

.


I have a
3Com OfficeConnect ADSL Wireless 54 Mbps 11g Firewall Router
which supports VPN passthrough only. Here's the configuration:
Under Firewall, Virtual Servers, forward ports 500, 1723, 1701, 4500

.


Under Advanced, check Enable IPSEC NAT-T Pass-through

.


On a Windows XP client:
In the Network connections window, hit File, New Connection
Select Connect to the network at my workplace

.


Select Virtual Private Network connection

.


Type a connection name

.


Select Don't dial the initial connection

.


Type the server domain name or IP address

.


Finish
Now the new vpn connection appears amongst the other connections, under
Virtual Private Network

On a Windows 98 client (I know, I know, who's still using Windows 98?, but hey, if you use rdp even Win 98 is still good):
In the Network connections window, Add new connection
Choose Microsoft VPN adapter
Type Host name or IP...
...and connection name
On Android 4.1.2 (Jelly Bean) devices:
Tap Settings button, Settings, More, VPN

.


Add VPN network: insert name, type (PPTP), your XP server's public domain name or IP; uncheck PPP encryption

.


Make sure your device is not connected to your home LAN where you configured the VPN, but to another network (i.e. the mobile network - GPRS, HSDPA, etc. - provided by the mobile operator). Tap the VPN connection and insert your XP server's username and password

.


Done, the Android device is now inside the home LAN ("Connesso" is in Italian and means "Connected"):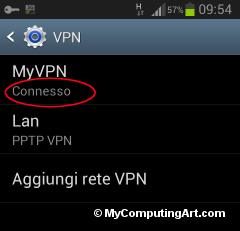 .
and it shows up in the server's Network Connections:

So, the Android device can access all local resources, like a local web server:
.
and the public IP is the same of the server: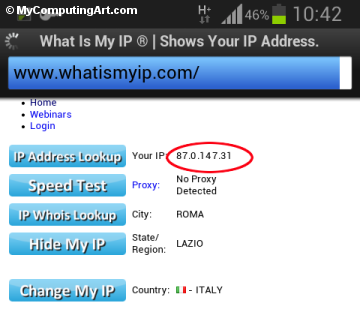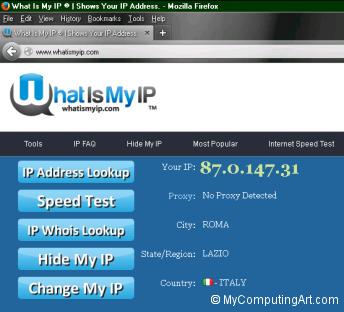 ---
Note: Mobile operators may have some limitations on some ports and block VPN connections. For instance, in Italy for VPN connections to work with TIM operator, you have to use
ibox.tim.it
as APN (
Settings
,
More
,
Mobile networks
,
Access point names
) instead of
wap.tim.it
, which doesn't allow VPN connections.

Posted by: Z24 | Sun, Sep 22 2013 | Category: /windows | Permanent link | home
Tagged as: android, client-server, configuration, rdp, router, software, vpn, windows, xp
---